July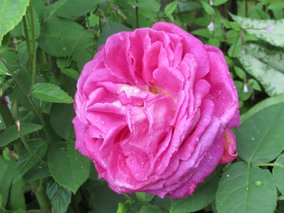 As promised last time, more pictures of rambling roses in bloom this month. Sharon is very proud of her "moon bed" so-called because of the planting was with the phases of the moon and the plants were partly chosen for the reflective qualities at night. The big plants are scabious which were raised from seeds obtained locally. They ended up rather taller than we anticipated but the garden can easily take such large flowers!
After some good weather last month, there seems to be quite good regrowth on six of the ten tea plants, so we are hoping that these will survive if we protect them from the frosts next winter. The apple trees with fruit that survived the late April frost are ripening those fruits nicely – those trees that lost all their fruit are at least putting on some good growth for the future, so there is always something to look forward to.
We had a little excitement the other day when a squirrel managed to nip through an open door and into the house. This is always a bad idea as squirrels are tremendously nervous creatures and hate being confined. We managed to get it into the study and close all doors except the French windows to encourage it to leave whereupon it jumped from its perch, onto Sharon's head (!) and escaped so all was well. Sharon managed to capture a quick photo of the squirrel sitting on the Bothy bookings calendar – perhaps it was sizing up the numbers of visitors….